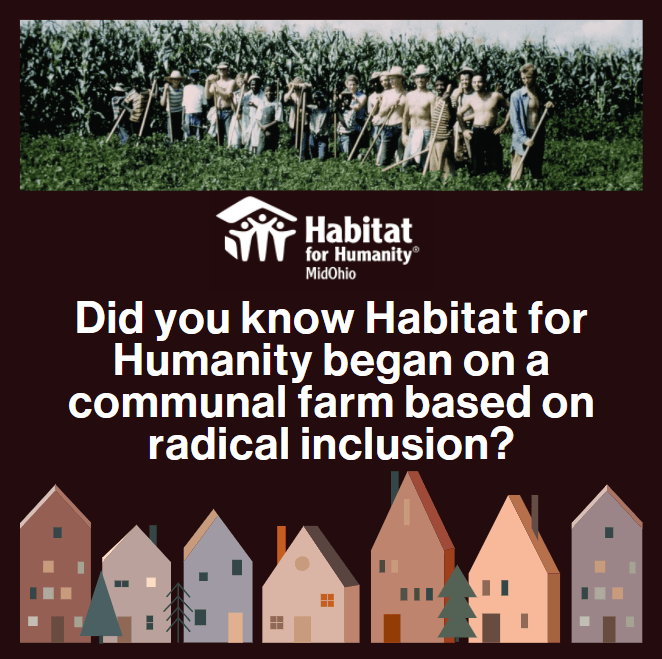 In 1976, Millard and Linda Fuller were inspired to start a grassroots housing organization after becoming members of Koinonia Farm in Americus, Georgia.  Koinonia was considered a radical and controversial organization for its inclusivity.  It was a place where blacks and whites lived, worked, and prayed together as equals.  Clarence Jordan and other founding members of Koinonia saw it as a 'demonstration plot for the Kingdom of God.'  Unfortunately, others saw it as a threat to their way of life and often brought violence to the farm.  The principles from Koinonia Farm, along with the dream that everyone has a safe, decent, affordable place to live, morphed into Habitat for Humanity International as we know it today.  In 1987, Habitat for Humanity – MidOhio was started by a group of Columbus community and faith leaders, in response to an increased need for affordable housing in the growing city.  The first neighborhood we worked in was Milo-Grogan, a predominantly African American neighborhood that was negatively impacted by racially-based policies such as redlining and the interstate system. 
Habitat for Humanity - MidOhio continues to strive for inclusivity through its missions and programs. If you'd like to learn more about Koinonia Farms where Habitat for Humanity has its roots, we recommend watching the film Briars in the Cotton Patch.  You can watch it for free by signing up for a volunteer account on My.Habitat.org!  You can also use the links below to learn more about DEI efforts at Habitat MidOhio.
For a summary of historic policies and government programs that contributed to racial segregation in the United States, we encourage you to watch the short 17 minute film Segregated by Design.
---
Statement from Habitat for Humanity International CEO Jonathan Reckford on the June 29 Supreme Court Ruling on Affirmative Action
A Brief History of Housing in Central Ohio
Celebrating Professional Athletes who Grew Up in Habitat Homes