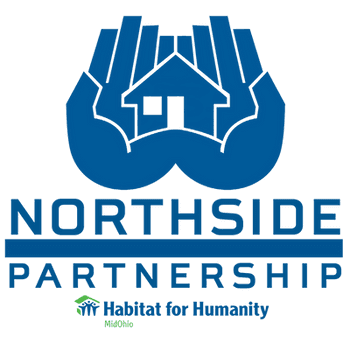 About the Northside Partnership
The Northside Partnership began in 2018 as the combination of three existing partnerships. The Clintonville-Beechwold, Dublin, and Worthington partnerships combined after building over 50 houses separately. The 15 churches making up the Northside partnership are located in Columbus, Clintonville, Dublin, Jerome, Powell, and Worthington. The Northside Partnership provides families with a great and memorable experience while building the highest quality house possible. Construction on the Northside Partnership has proudly continued throughout the pandemic. Thank you for visiting! 
---
Our Current Build
August 8th-13th -  It seems like a long time to get to this point of our construction phase. We have finished preparing the roof gables for the crane to lift them in place Tuesday.  As you can see on the photos, we completely finish the gable on the ground, so we don't have to work off ladders to install the siding, soffit and fascia.
Saturday, we had a group from the Bethel International United Methodist church to help with the construction.  They added all the OSB to the band-boards, so we are ready to install sheets of insulation on the walls.  They caulked all the seams for a vapor barrier plus installed the first roof truss over the master bedroom, after moving all the roof trusses into a spot so the crane can pick them up.
---
Participating Churches
---
Support the Partnership
To contribute to the Northside Partnership click the donate button below. Be sure to select Northside Partnership from the "my gift should be used:" drop-down menu. 
---
Volunteer with us
We are glad you are interested in becoming a member or helping our construction team! Our team is made up of volunteers from our partnership churches, who construct our partnership house.
Workdays:
- We currently work on Tuesday, Thursday, and Saturday. We begin our day at 8:15 AM and quit at 3:30 PM.
- We also encourage church groups to help on Saturdays. This can be from the church family, a Youth group (16 yrs. old with an adult), or a Bible study group.
- We start the day with a safety meeting, review safety procedures for proper tool use. Assignments will be given out at the conclusion of the meeting.
- Lunch is around 11:30. Most volunteers pack their lunch. However, if it is a group, they usually provide lunch.
Experience: Experience is not a prerequisite! We will train on the job. Willing hands and heart are all we ask.
Tools: Hand tools are provided for volunteers. However, if you have some favorite hand tools, feel free to bring them along. Tools to bring would consist of a hammer, tape measure, speed square, pencil, utility knife, and tool pouch.
Interested in volunteering? Download and complete this form and return to our house lead Bob Lentz, BLentz@HabitatMidOhio.org .
---
Upcoming Events and Fundraisers
Dine for Habitat - Saturday, August 27th, 5:00pm.  Enjoy great food and beverages at The Final Cut steak house in the Hollywood Casino and receive a beautiful etched French crystal wine glass.  All that while supporting Habitat for Humanity-MidOhio.  This is the third year for this fundraiser.  The cost to dine is $250 per couple.  To be a sponsor, $250.  To be a sponsor and dine (a couple), $400.  We will accept donations of any size.  You may send checks to James Whitmer, 7200 Concord Bend Drive, Powell, OH 43065.  Your check should be made out to Habitat for Humanity-MidOhio.  You can also pay with a card on our partnership's website.  Please note - you must be 21 to get into The Final Cut. 
St. Patrick's Fish Fry  - During lent St. Patrick's Episcopal Church in Dublin will hold fish fries on some Fridays. The meal includes great fish prepared the way you like it and lots of sides. Beer and wine are available for purchase.
Northside Partnership Day at City Barbeque (Henderson Rd.) - Held once a year, a percentage of what is spent on the great food at City Barbeque is donated back to the partnership. Jane Albert organizes this event, please check back for more information and coupons. 
---