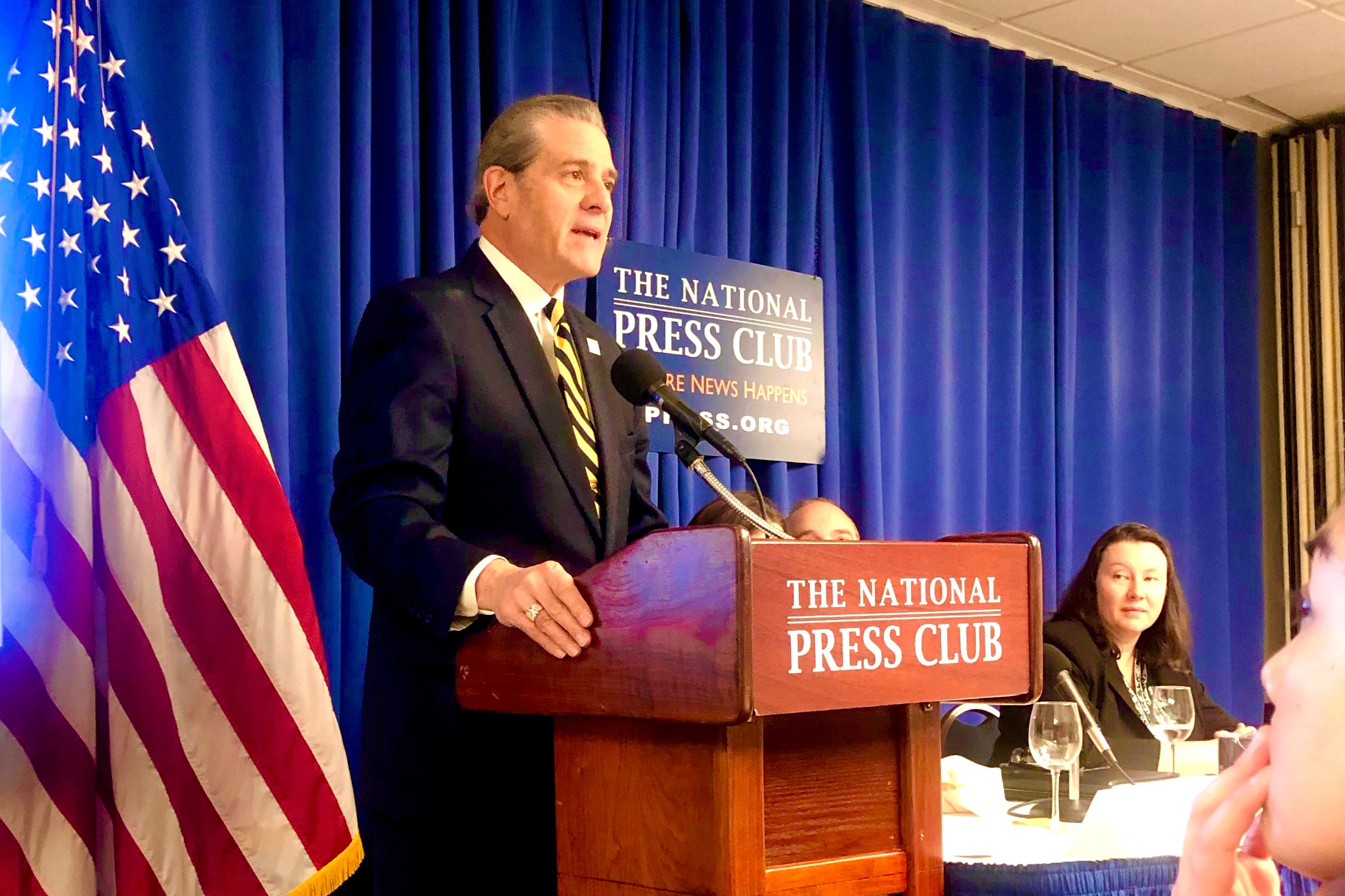 In Washington D.C. for  "Habitat on the Hill-2020," Habitat for Humanity-MidOhio President & CEO E.J. Thomas speaking at The National Press Club on the importance of Affordable Housing legislation.
From E.J. Thomas
As you peruse our newly redesigned website, we hope you'll like what you see.  Much effort has gone into such an update, consistent with everything this affiliate does for our community.  Allow me to highlight and speak in detail to just one aspect of that effort:
A little more than four years ago our affiliate embarked on a new plan aimed at one goal:  To increase from serving 25 to 30 families every year to over 100.  Given that all we do is based on how much revenue we have available for our work, we determined that a capital raise was necessary in order to reach our objective.  As a result, we created the Habitat Housing Initiative, or "HHI."  
Our goal was an ambitious one - $4.5 million.  For over two years our development team and I worked with the eight great champions we recruited, with co-chairs Dan Creekmur from Columbia Gas and Brady Burst of Park National Bank leading the effort.  With their help in many, many meetings with potential individual and corporate contributors in central Ohio, we not only met our number, but exceeded it, landing on $4.75 million!
So, what use did we have planned for this generous infusion of resources?  First up was to add two more ReStores to our already existing two, so that the net revenue generated each year would sustain the organization and provide us the funds to serve those 100 families.  Sustainability is ensured with successful ReStore operation, and it's anticipated that when all four are producing at capacity, Habitat MidOhio should realize something close to $4 million each year in revenue – dollars that can be put to work in our communities.  
I'm pleased to say that even on the runway to getting those new stores open, we have greatly increased the number of families served.  Simply stated, we increased from 28 two years ago, to 58 in the following year to 106 in FY19, and in doing so, catapulted to the ranks of the top 20 Habitat affiliates in the country among the 1,200 Habitat organizations in terms of production.  Quite a feat, and I'm incredibly proud of all our team members who have not been hesitant in stretching to meet our objectives!
What does this mean for our central Ohio communities, where we actively build and serve neighborhoods in Franklin and Licking Counties?  It's impactful…especially to the hard-working families we strive to help.  Obvious is the impact we have on each of the 20 or so families who work to earn their own new Habitat homes each year, along with the neighborhoods in Linden, on Columbus' south side and in Newark.  Each new structure serves to revitalize the area where it's built.  Less obvious, but no less important to individual homeowners, is the impact our 80+ critical repairs have on those residents.  Such improvements allow them to stay in their homes by ensuring the structure is sound, heating and air conditioning work, electrical and plumbing systems are safe and roofs no longer leak.  Those repairs also go the distance in helping keep up these important neighborhoods.  
Several years ago as chair of the Affordable Housing Alliance of Central Ohio (AHACO), I was a panelist at the Columbus Metropolitan Club where our Alliance had invited pediatrician Dr. Megan Sandel from Boston to join the conversation.  Noteworthy was her commentary on why decent housing is so important.  Her theme was that "Housing is a vaccine," and she meant it in the most literal terms.  In her experience, if a family wasn't in stable and safe housing, life stressors significantly affected health, and that reached down to children as well.  Further, without a place to live, all the other programs, and the resources dedicated to them, were less effective, if at all, in terms of affecting and improving one's health.
So, as we continue to execute our mission and work to grow the number of families we serve each year, know that's why we do what we do.  With your continued help and support, Habitat will continue to grow with regard to the safe, decent and affordable homes we provide for our neighborhoods.
E.J.