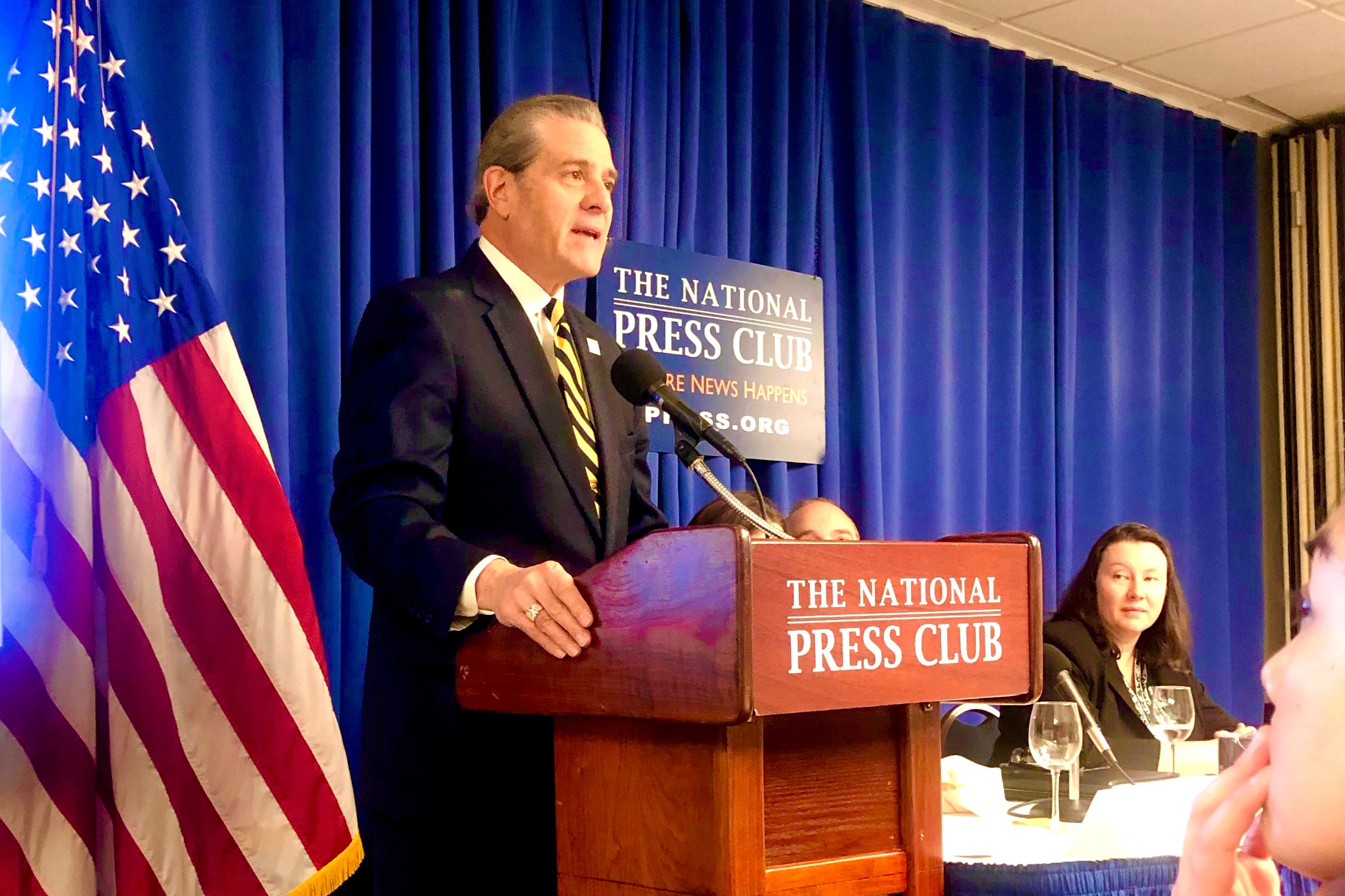 In Washington D.C. for the annual Habitat on the Hill event, Habitat for Humanity-MidOhio President & CEO E.J. Thomas speaking at The National Press Club on the importance of Affordable Housing legislation.
From E.J. Thomas
Years ago, when Rod Serling introduced one of his Twilight Zone television-series segments, he might begin his quick setup of the story with, "Imagine if you will…"  Apropos of my Musings this month is the following:
Imagine if you will that you are a family or single mother in Licking County currently living in a substandard rental apartment or house.  It may be overcrowded, have issues with plumbing or heating, lead paint or broken windows.  You would dream of owning a home of your own, but know that a market-rate mortgage at 4, 5, or 6% was out of reach, simply because your income wouldn't allow for qualification.  Imagine you'd never heard of Habitat for Humanity's program of homeownership program that included a 0% mortgage?
And then you did.
In the years since Habitat MidOhio changed its name in order to bring Licking County into our geographic service area, there hasn't been a permanent location where you could meet with a Homeowner Services staff member.  This professional was the person who could work with you to determine qualification, and if those requirements were met and you could become a Partner Family, know that you would have support as you prepared yourself for owning your own home, while working to invest sweat equity hours. 
Previously, and primarily in Newark, you were instructed to meet in a temporary office lent to us by Park National Bank, or in the library, or in a coffee shop or restaurant.  One of our goals has always been to help you maintain your sense of dignity in working through the process, but this catch-as-catch-can meeting format didn't do much to help preserve that dignity and respect for either you or your family.
That is about to change with what we anticipate as a late fall opening of our newest ReStore located on North 21st Street in Newark.  Within that new location will be dedicated space for our Family & Program Center.  In the environs of a safe and private setting, you and your family will be able to meet with representatives of our team.  And because child care is so expensive, we'll even have room for your kids to relax and play, while under your watchful eye in the adjacent room - one with a window for the purpose.  You will know that Habitat MidOhio values you and your family as one that wishes to work hard in our "hand up, not a handout" program.
Habitat MidOhio is investing some $2M of the $3.5 capital needed to purchase and open the ReStore – along with the Family & Program Center in Licking County.  Response to raising the additional $1.5M has been very positive, with pledges so far totaling more than $750k!  Leading the fundraising charge is Brady Burt, CFO for Park National Bank (PNB), who also happens to be our governing board secretary.  Aiding him in this effort to round out our Campaign Cabinet team are Dan DeLawder, PNB's Chairman, and Rob Montagnese, Pres. & CEO of Licking Memorial Hospital.  With this crack team, I have every confidence we'll be successful in achieving our campaign goal making this dream a reality!
Right now, you are in need of safe, decent and affordable housing in Newark or Licking County.  You dream of having a home of your own.
"Imagine if you will…"