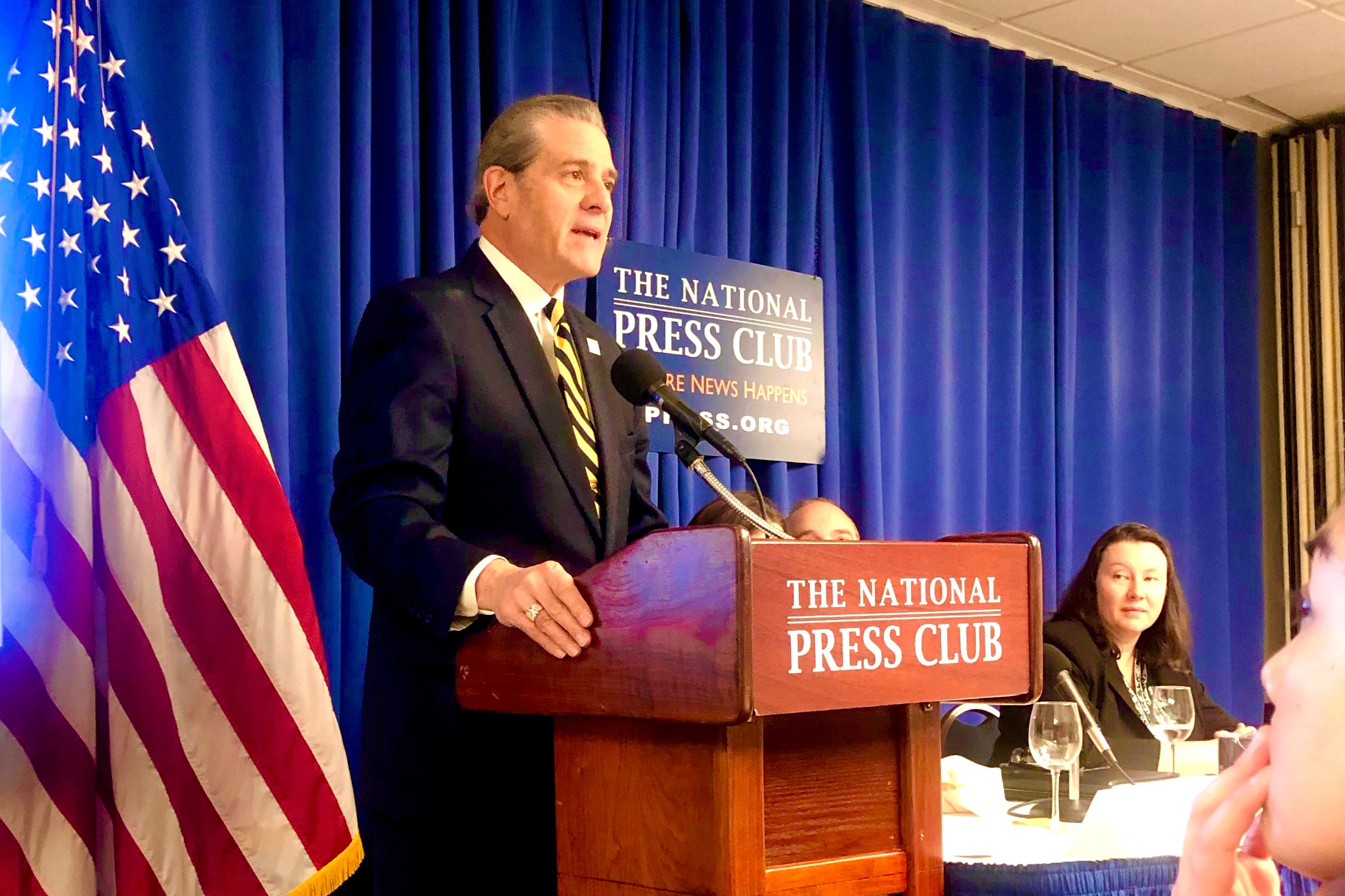 In Washington D.C. for the annual Habitat on the Hill event, Habitat for Humanity-MidOhio President & CEO E.J. Thomas speaking at The National Press Club on the importance of Affordable Housing legislation.
From E.J. Thomas
2022 has been quite the year, hasn't it?  For many of you, maneuvering out of the pandemic has not been easy; for some, it's been downright challenging, especially if being under the weather was part of your personal equation.  In different ways, the country has been dealing with issues and a culture shift that most could not have imagined or anticipated five years ago.  So, change has been the order of the day during this period. 
But for all the zigs and zags we've had to make, there are some constants, and Habitat for Humanity-MidOhio has endeavored to stay on the straight and narrow of providing families with homeownership opportunities by way of our "hand up, not a handout" philosophy.  As you're aware, a decade ago we added our Home Repair Program that helps existing homeowners remain in their cherished dwelling, to date we have helped 382 families with this program.  So, why change a proven model? 
Noteworthy is that 2022 represents our 35th year as a Habitat affiliate – currently 29th in terms of production, based on the number of families served, out of the 1,100 across the nation.  For those interested in the bottom-line, 2022's achievements are as follows:
This was a record year for the Playhouse Project, where sponsors teamed with our staff to build 69 playhouses, blessing as many families.
We anticipate closing out our Licking County Habitat Initiative (LCHI) capital campaign, a total of $1.5M that will be layered onto the investment of $2M made by our affiliate.  This campaign is funding the acquisition and initial operation of the Newark ReStore, located on North 21st Street that also will be home to our new Family & Program Center.
In May, we were awarded $6.75M by MacKenzie Scott  - a transformational gift that will impact our operation and new Habitat families for years to come.
We laid the groundwork and made application to the U.S. Treasury's Community Development Finance Institution (CDFI) office to become certified as our own CDFI. This entity will be a subsidiary of Habitat MidOhio, to be known as Habitat Capital Resource Corporation.  Net result is that this addition will allow us to expand our operation and serve even more families in central Ohio.
This year we celebrate our long-standing partnerships with American Electric Power and Nationwide, 25 and 20 years, respectively.
 At our recent 35th anniversary celebration, we were pleased to honor 41 long-time volunteers with the Lifetime Service Achievement Award.  Of interest is that this recognition requires a minimum of 4,000 volunteering working on our homes and supporting our mission.  Two of our valued volunteers topped a whopping 10,000 hours.  That's real dedication and commitment!  We could not be more grateful for their service.
I need to shout out the incredible work of our ReStore staff, as for three months running in Q3 and Q4, their efforts resulted in sales exceeding $250k each!  December 1st represented my 18th year of serving as executive, and I recall like it was yesterday that when I began my tenure, we were averaging about $18k per month.  With the addition of the Newark ReStore, scheduled to open in late January, I know store operations are poised to reach even greater sales figures, the net of which directly supports the mission of Habitat. 
Finally, none of these accomplishments would have been possible without the faithful commitment of time, treasure and talents of thousands of tireless volunteers, generous donors, hardworking partner families and our incredible Habitat staff – all guided by an outstanding governing board.  I know you share with me a real sense of appreciation and gratitude for all who have contributed what they have as individual talents to this well-oiled machine. 
With your continued dedication and support, I have confidence that 2023 will mark another great year of pushing our mission forward.  For you and all, I offer this sincere "thank you," although those simple words to not do justice to the blessings we have experienced in what will soon be another year in the history books, year 35.
Wishing you and yours a blessed and the happiest of holidays during the season.