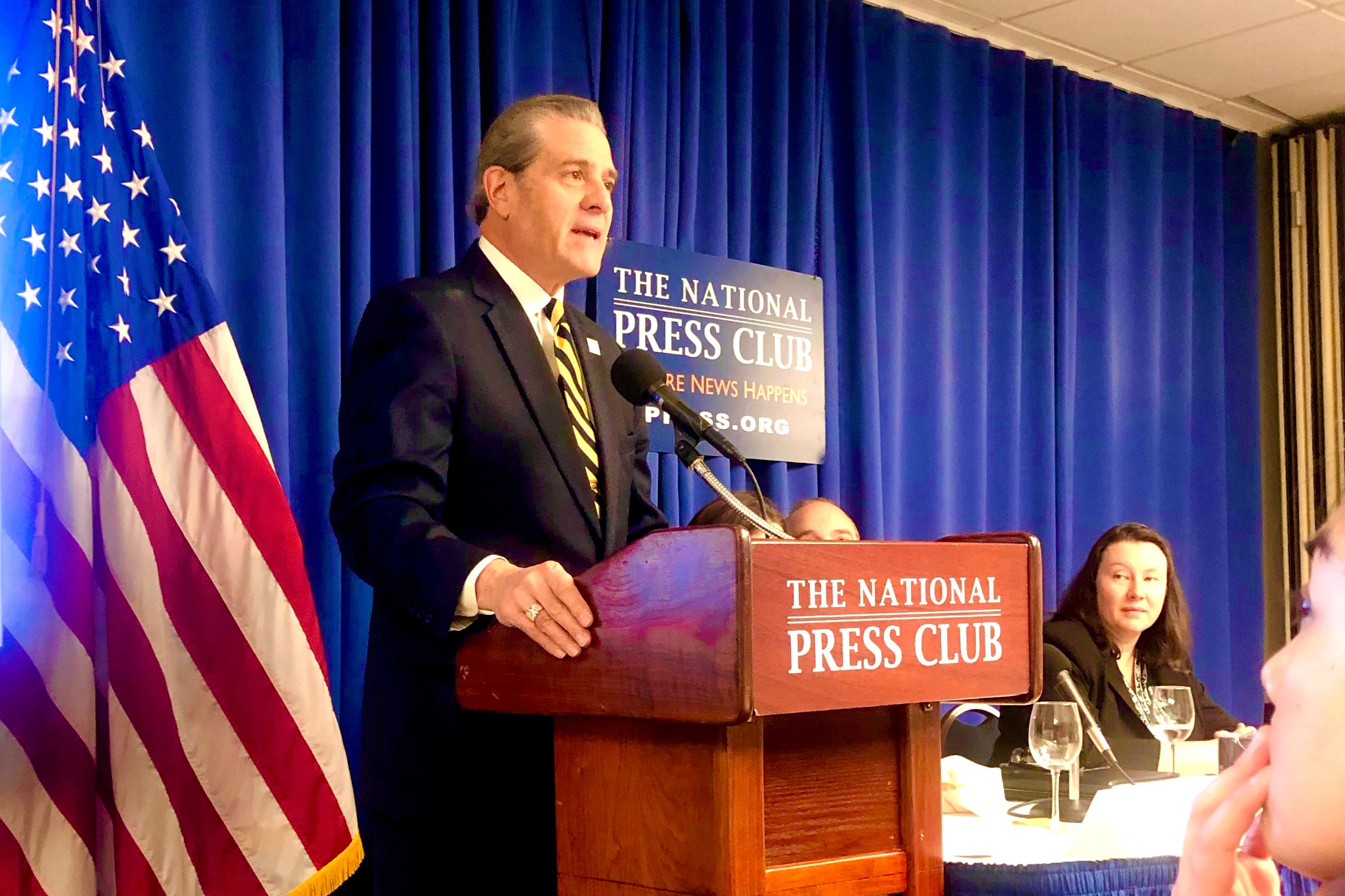 In Washington D.C. for the annual Habitat on the Hill event, Habitat for Humanity-MidOhio President & CEO E.J. Thomas speaking at The National Press Club on the importance of Affordable Housing legislation.
From E.J. Thomas
            Seems there's a month for just about everything these days.  Sometimes, however, there's one that catches our eye at Habitat MidOhio.  Specifically, this one is set aside as National Home Furnishings Month…and that makes me think of our ReStores!
            As I've shared before, our three Habitat MidOhio ReStores provide numerous opportunities to donate gently used home furnishings for resale, or shop, purchase and repurpose those goods – all of which produces sales revenue at the counter that supports our overall mission. 
            I've had supporters ask me, "How much effect does my donation (or purchase) really have on the mission of Habitat?"  Fair question, for sure.  The answer is, "…quite a bit!"
            Specifically, during last fiscal year that ended on June 30th, the combination of donations and subsequent sales generated $3.3 million in gross retail sales.  That figure illustrates how much those individual transaction mean to our mission, whether it's a donation or purchase at the counter. 
            So, when everyone does a little up front, that result on the back end can truly be transformational in providing us the ability and resources to serve more families. 
            Allow me to focus on furniture that is now being donated to our stores.  In just the last two months, we have been lucky to attract the attention of several large retailers who are now consistently making quality donations that are then sold to the general public.  And in an effort to enhance the shopping experience for our patrons, we are in the process of launching a new on-line shopping site where patrons will be able browse and make purchases.  We will be releasing that link soon, once the team has completed all Beta testing.  Once accomplished, folks can either pick up what they've bought, or utilize another new feature, our delivery service. 
            As our ReStore operations continue to evolve, know that our overriding goal is to make the experience more convenient, efficient and fun!  We hope you'll stop by in September during National Home Furnishings Month.  As always, thank you for your support of our affiliate and mission, as you really do make it all work for our families.