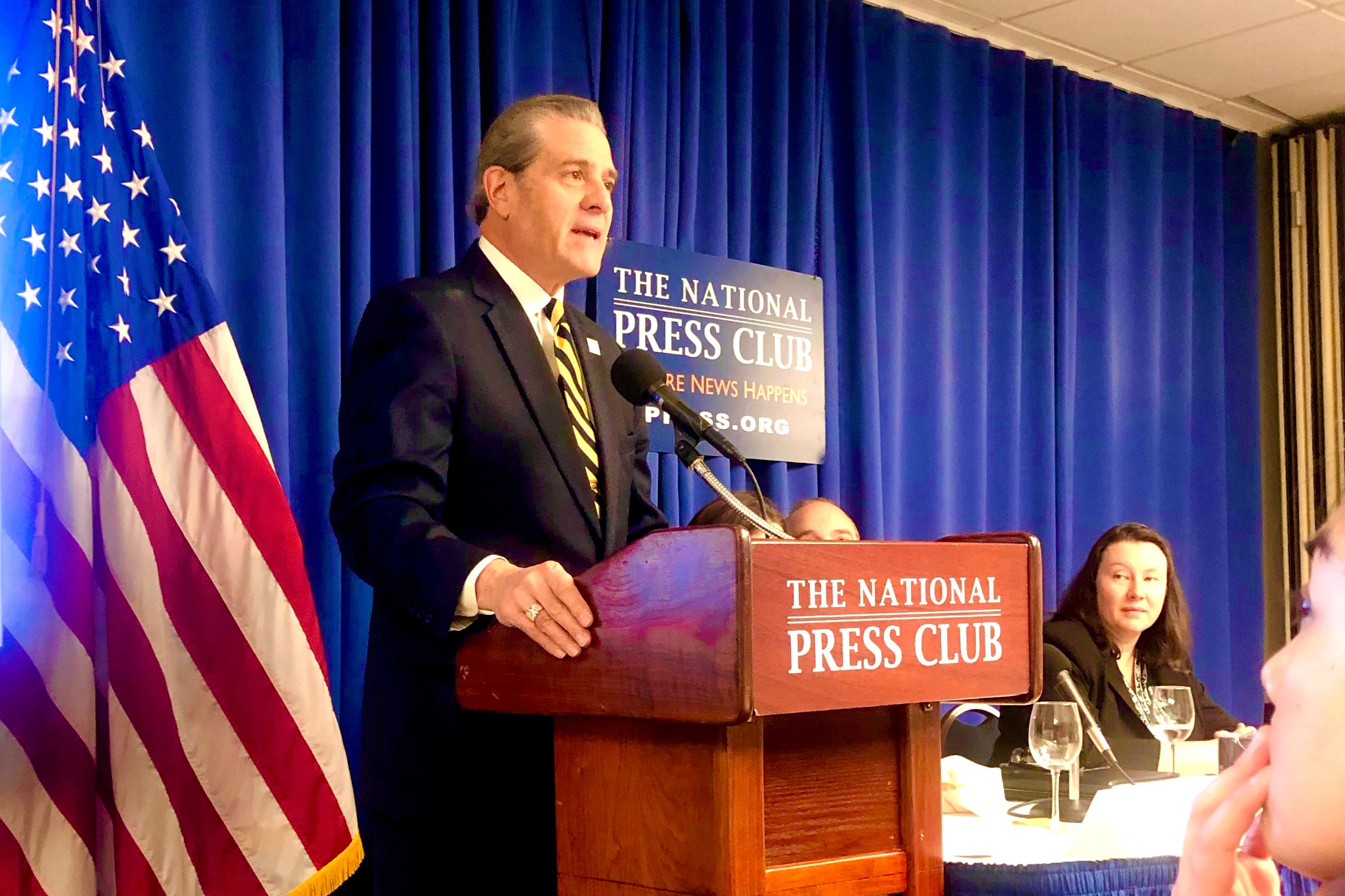 In Washington D.C. for the annual Habitat on the Hill event, Habitat for Humanity-MidOhio President & CEO E.J. Thomas speaking at The National Press Club on the importance of Affordable Housing legislation.
From E.J. Thomas
Homeownership.  For most of the last 100 years, striving to own a home has been the American dream.  And so it remains as the month of June breaks upon the 2022 stage.  Specifically, this is National Homeownership Month where the focus is on helping those desiring to buy and own a home achieve that singular dream. Habitat MidOhio is actively involved in providing that opportunity to as many as possible in the 30-60% Area Median Income (AMI) range in Franklin County with an 80% upper limit in Licking Counties.  However, what we can do alone is just a fraction of the families who need and want a home of their own. 
Toward that end of assisting families across the board, your affiliate has been actively involved in the creation and operation of the Affordable Housing Alliance of Central Ohio (AHACO).  Our 28 members represent both for-profit and non-profit organizations, all of which are focused on providing housing in one way or another.  And the need is great and growing. Six plus years ago, we as Habitat MidOhio were successful in recruiting the first 12 members that, recognized by way of a study we and our strategic partners sponsored, there are more than 50,000 families in central Ohio who are severely cost-burdened – defined as spending more than 50% of their income on a place to live, whether renting or owning.  The Alliance and those partners have been successful in advocating for more public funding for affordable housing, and in attracting hundreds of millions of dollars from the private sector for both development and housing preservation through critical home repairs. For as much progress as our members have been able to make during these intervening years, population growth, both now and anticipated over the next two decades, means we're breaking even  - meaning we're still hovering at the 50k mark in terms of need.  But all remain optimistic that we'll make headway as all stay focused on this important work.
Additive is our Habitat work with CONVERGENCE Columbus, the goal being to increase the number of Black families who can find themselves in a position to purchase a home.  Through the combination of encouraging both home purchase and preservation through repairs, our objective is to increase the percentage of Black homeownership from 42% as compared to 62% for white residents in our community. 
Specifically related to Habitat MidOhio's work is our effort to complete the purchase of a building in Newark on North 21st Street, now under contract, to house our latest ReStore.  Further, this facility will include a dedicated Family & Program Center that will provide services to those families in Licking County who desire to have a home of their own. 
As is evident, your Habitat affiliate is tackling the issue of increasing homeownership from a variety of angles.  With your continued help and support, we will be doing our part to assist those who might otherwise never be able to see this dream come true.  As we strive forward, know I appreciate all the effort expended by our dedicated volunteers and the resources provided by our wonderful donors that give at the individual, church and corporate levels.  We cannot do this worthwhile work without your help, and I remain grateful for the confidence each of you has in our affiliate and mission.
Have a great homeownership month this June!