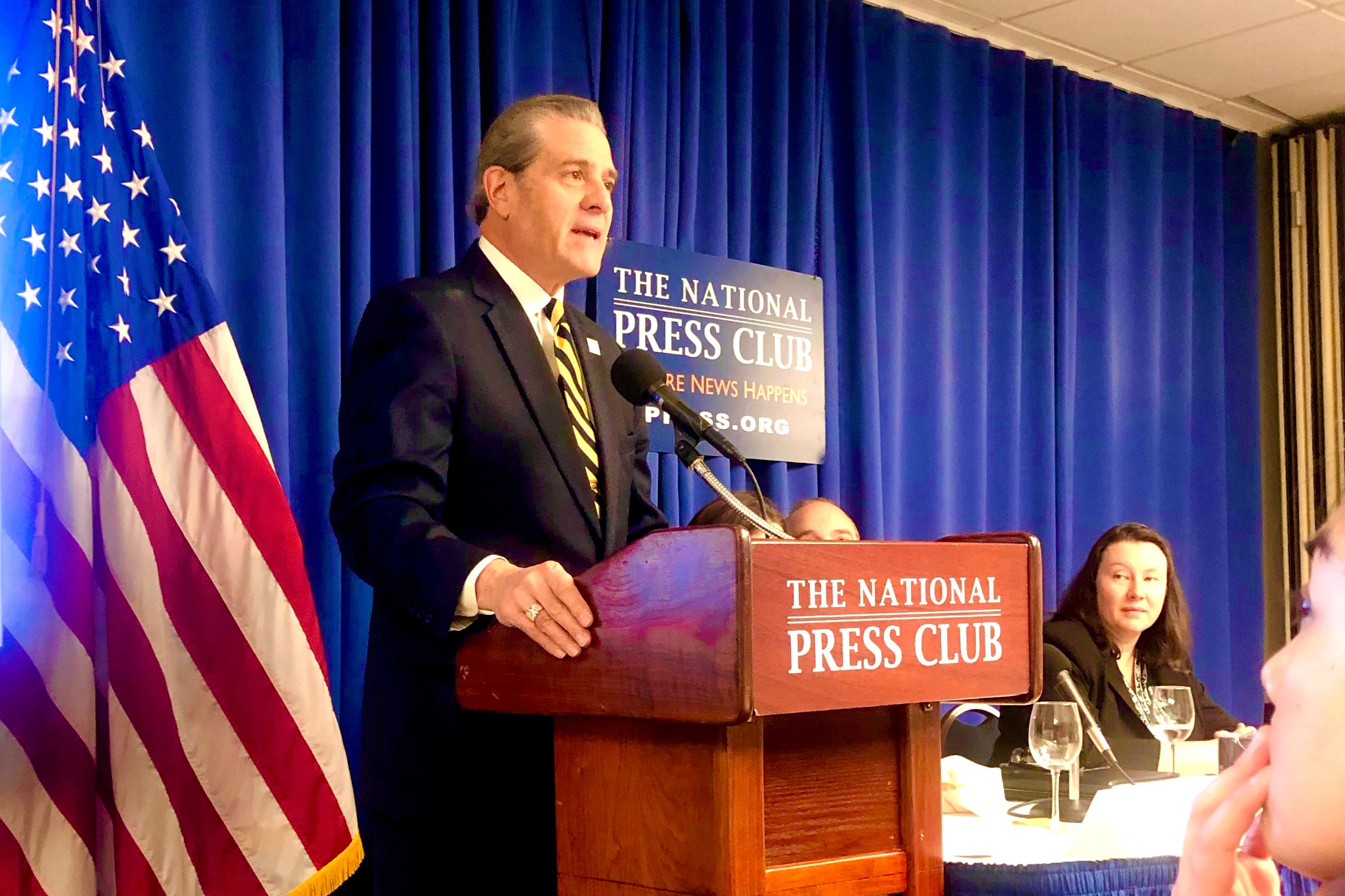 In Washington D.C. for the annual Habitat on the Hill event, Habitat for Humanity-MidOhio President & CEO E.J. Thomas speaking at The National Press Club on the importance of Affordable Housing legislation.
From E.J. Thomas
2021…what an interesting and challenging year for all of us.  Navigating the rapids on our journey down life's river these past two years has taken yeoman effort to keep from overturning on the rocks.  Whether those challenges have been work, personal, emotional, or health related – or a combination thereof – each of us has needed to dive deep into our faith for comfort, solace, and wisdom from our Creator for what comes next…2022!

I'm pleased to share that the team at Habitat MidOhio has been working hard these past two years in making our way down this winding river, one where the next bend can't readily be seen until on top of it…much like the one for you and yours.

The product of our work is viewed through the lens of production and the number of families served.  For our affiliate, the number of new builds, rehabs, and repairs translates into a set of numbers that Habitat International tabulates to determine national affiliate rankings.  Thanks to your support, Habitat MidOhio sits at 30th out of the approximately 1,150 affiliates in the country. 

Recently, CEOs, COOs, and CFOs were invited to Florida for the "Large Producer Symposium," attended by those in the top 45 Habitat organizations nationally.  This gathering provided a great opportunity for affiliate leaders to share best practices on a variety of issues, from how best to create an in-house mortgage company to building multi-family structures, and everything in between.  Much of what was covered overlays perfectly onto our new three-year Strategic Plan, now underway.  In addition to the exciting prospect of serving more families – our mission – is our desire to make our way back up the rankings, as we were higher prior to the pandemic – simply because that translates to more families being served.  
While there, it was great to have HFHI CEO Jonathan Reckford spend a full day and evening with us answering questions from participants and sharing a, "…here's what's next" for Habitat overall.  In addition to a discussion of nuts and bolts issues was a standout comment regarding faith.  Simply put, he stated, and I'm paraphrasing, "God is at the center of our mission, but he needs to be out at the edges as well."  I thought that succinctly stated that God's love, and our faith in it, should touch every facet of our work. 

During this joyous season, it is with that thought in mind that I share on behalf of all our partner families, board, and staff, sincere gratitude for your continuing interest in and steadfast support of our mission.  Without you, the words "…we provide safe, decent and affordable housing" would ring hollow in the wind.  However with your generous donations, efforts in swinging a hammer, volunteering, donating in our ReStores, or helping in the office and in myriad other ways, our voice hits home.  And it does so in the most impactful of ways of providing or maintaining housing for those in our community who need it most. 

All of this is to share our sincere appreciation and to wish you and yours the very best during Christmas and the holidays…where we put our faith "out on the edges" in addition to that which is carried within our hearts.