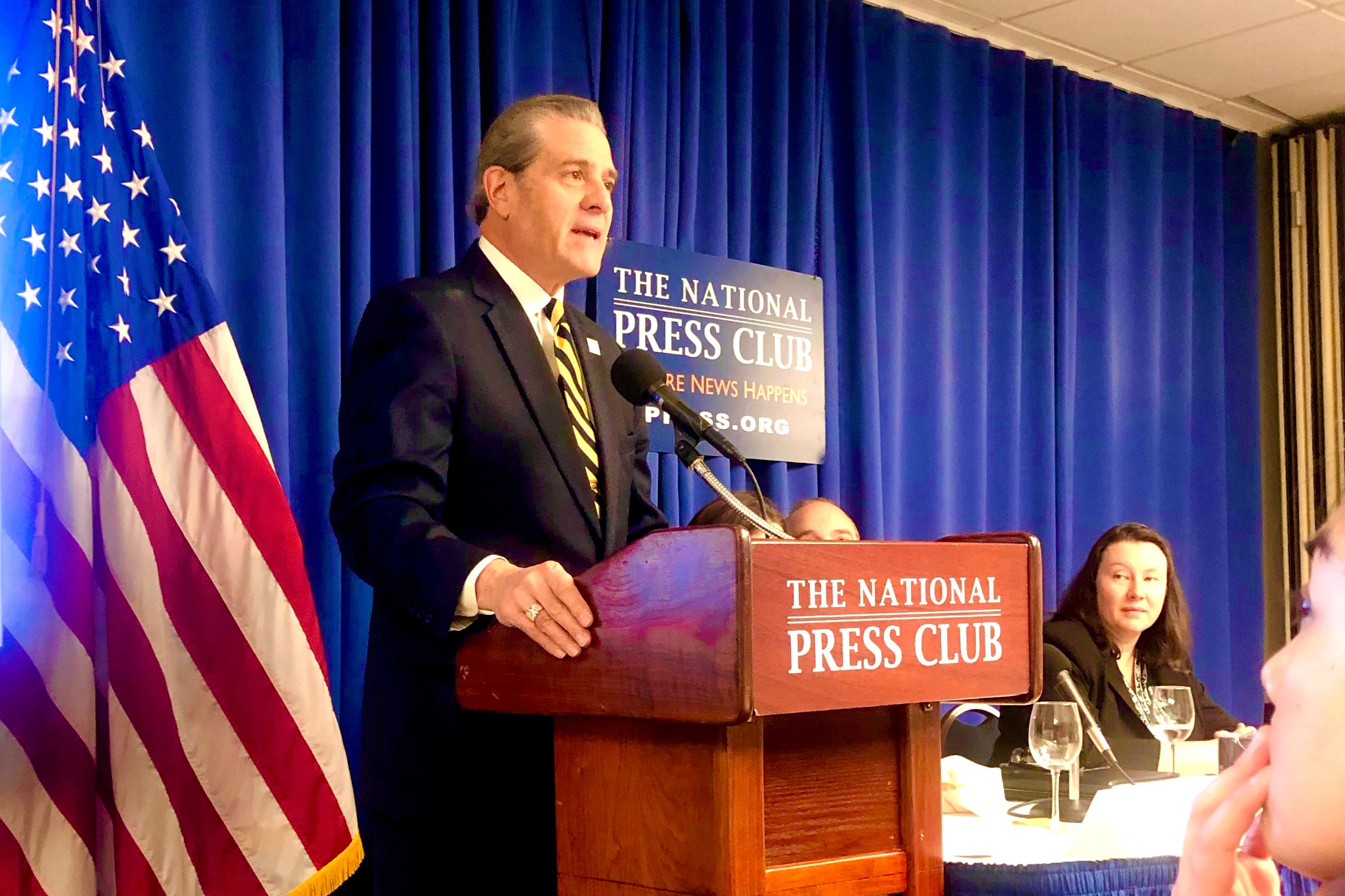 In Washington D.C. for the annual Habitat on the Hill event, Habitat for Humanity-MidOhio President & CEO E.J. Thomas speaking at The National Press Club on the importance of Affordable Housing legislation.
From E.J. Thomas
         Donatos Pizza is a well-known entity here in central Ohio, and just writing about their great product is making me hungry!  In my Musings this month I wanted to share what a great partner Jane Grote Abell's company is to not only Habitat MidOhio, but to Habitat for Humanity International overall.
            Specifically, this is the second year running that Donatos has engaged Habitat affiliates throughout their multi-state franchise system to support our work.  In each of these last two years, and in support of the company's effort to support their philanthropic pillar of affordable housing, they have set aside the first quarter of their operations to engage with us in a "round up" program, where customers can make small donations that are then distributed to Habitat affiliates in their respective franchise locations supporting their affiliate's work of providing new homeownership opportunities.  This thoughtful exercise will generate $100,000 overall across their system, and we could not be more appreciative of their choosing Habitat for Humanity and are thrilled with the results.
            For our mid-Ohio affiliate, engagement has included a build day constructing and decorating playhouses for our "Playhouse Project."  Last year, their team completed four of these houses, and this month, Donatos' efforts culminated in six of these mini-homes that delighted as many families as their children were introduced to their new playhouses during the 'big reveal' at the end of the day at the OSU French Field house.  Joining us and visiting with families and children was none other than Brutus Buckeye!  All in all, it was a great day watching Donatos' employees compete to see which team could produce the best decorated playhouse.  It was heartwarming fun for all, and we thank Jane and all for participating.
          Also, of note last month is that Michael Copella, Sr. Marketing Director for CBRE took the mantle of Board leadership from Mike "Fitz" Fitzpatrick, President of Elford.  Michael has previously served as Vice Chair, and we look forward to his efforts in continuing the upward trajectory of Habitat MidOhio.  We sincerely thank Fitz for his dedication and great support over a number of years and appreciate his willingness to remain as an excellent contributor on the Executive Committee.