Habitat MidOhio Monthly Musing
To sign up to receive your copy of the Monthly Musing straight to your email inbox, click here.
---
CEO Corner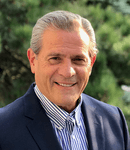 Each year as we approach the holidays, I am humbled by the kindness of loyal Habitat MidOhio supporters whose generosity makes it possible for all of us – staff, board, and countless volunteers – to help create a better future for our hardworking partner families in our central Ohio community. 
     Because of our loyal donors, volunteers and partners, we have helped more than 100 families over the past year in central Ohio build strength, stability and independence through affordable housing. 
     Freed from the constantly increasing gap between wages and the cost of rent, more families and children will celebrate Thanksgiving surrounded by friends and loved ones in the comfort and security of their very own homes.  With a strong roof over their heads and a solid foundation under their feet, these families have the opportunity to build a much better future for themselves and others. 
     Thank you for helping to continue to build and repair homes right here in central Ohio.
     Wishing you and your loved ones a peaceful and Happy Thanksgiving.
                                                    With heartfelt gratitude,

---
Homeowner Services
Commencement of Bell Family Home, October 3
What a beautiful morning to celebrate with the Bell family as they raised the walls at the site of their future home in Linden! Thank you house lead Bob Lentz and the crew from the Northside Partnership for your sponsorship and volunteer commitment on this build. Special thanks also goes to the City of Columbus - City Hall for sponsoring this home and to Worthington Christian Church for providing the walls!
---
Commencement of Jones Family Home, October 25 
We came together to celebrate the beginning of the Jones Family's home. We are thankful to our partners at AEP Ohio and the AEP Foundation for their support of this home – the 26th build they have sponsored! Our staff and volunteers are taking advantage of this beautiful weather and will have it under roof before we know it.
---
Construction
Volunteers Are Showing Thankfulness Through Service
Construction projects including new homes, renovations and repairs remain in full swing as we work through the last months of the year here at HFHMO.  There are currently nine new homeownership projects – eight new builds and one major renovation – underway thought Franklin and Licking Counties. Additionally, we are actively working on 16 owner-occupied repair projects. Another six new builds are in line to start, as well as 43 repair projects in active processing stages.
How in the world will we ever be able to accomplish all of this great work?  Faithful volunteers….that's how!  
As always, our Tuesday and Thursday Crews, A-Team, Repair Program supporters and regularly scheduled evening crews of dedicated volunteers continue to come out in force and pitch in wherever the greatest needs are to keep many projects moving along.   We welcome new members to these crews and are thankful for the seasoned members for welcoming in and training up the newest members.  
The Habitat Adopt-A-House groups are another force working with us to accomplish our mission.  Currently, all of our active groups are underway diligently working on homes.  The Hilliard AAH group, led by Tod Powers, is in the midst of a major gut renovation project.  They are currently finishing up hanging drywall for the Habte family.  The Northside AAH, led by Bob Lentz, just set roof trusses on their sponsored home for the Bell family.  The AEP Foundation project, led by Jim Rosing and Kirk Nofzinger, also just set the roof trusses on a home for the Jones family.  Last, but certainly not least, the Northwest AAH group and partner Mifflin Presbyterian Church, led by John Fisher are already back at it again! Last week started with their first day of framing on a home for the Badhi family, just a few short months after completing a home for the Lee family this past summer. The dedication of the longstanding members of these Adopt-A-House groups to orchestrate the fundraising, volunteer shifts, food and many other aspects of planning is second to none in our minds!  We thank you all for continuing to demonstrate your thankfulness during this season through your hands and hearts to serve others.

---
ReStore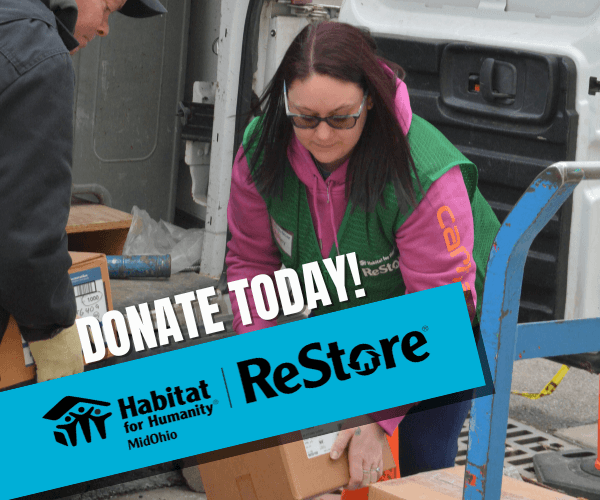 We are heading into the end of the year which means time is running out for you to make your tax-deductible donation! Whether you're a homeowner looking to clean out your basement, a remodeler looking to recycle a kitchen full of cabinets and appliances, or a business with excess inventory you need gone, get your donations in by the end of the year to reap the tax benefits.
Visit our website below to see a list of items we are able to accept.  Schedule a pick up for larger items (614) 364-7028, or bring us your smaller items. 
Visit our website to see a list of items we are able to accept. 
Locations and hours:
ReStore Westerville Road: 3140 Westerville Road, Columbus, OH 43224
Open Monday-Saturday from 9:00 A.M. to 5:00 P.M. (Donations Drop-offs 9:00 A.M. to 4:30 P.M.)
ReStore Bethel Road: 2555 Bethel Road, Columbus, OH 43220
Open Monday-Saturday from 9:00 A.M. to 5:00 P.M. (Donations Drop-offs 9:00 A.M. to 4:30 P.M.)
ReStore Newark: 1660 N 21st St, Newark OH 43055
Open Monday-Saturday from 9:00AM to 5:00PM (Donations Drop-offs 9:00 A.M. to 4:30 P.M.)
---
Volunteer Services
Please welcome our newest AmeriCorps member!
Sìleas (pronounced She-lis) is serving as an AmeriCorps Construction Crew Lead. Sìleas chose to serve a year with Habitat because she volunteered with Habitat with a class in college and was impressed by the mission and practices of the organization, so when she graduated, she was eager to keep Habitat in mind for her next steps out of college and looks forward to being able to help carry out the mission. A few of Sìleas's interests include: tea, learning Scottish Gaelic, and researching reports of hauntings. Sìleas's favorite holiday activity would be cooking; eating the food is pretty good too! Her favorite dessert is cinnamon ice cream.
Sìleas would describe herself as contemplative, dedicated, diligent, and creative. One important life skill she thinks everyone should have would be to try to learn at least one other language. Speaking more than one is an incredibly valuable skill. One place she would like to visit would be Scotland. Something that always make her laugh (until she cries) are truly the worst puns imaginable.  A fun fact about Sìleas: at college, she became known for knowing a shocking amount of campus folklore, despite not believing in ghosts. One goal Sìleas would like to accomplish would be to write a book with her partner.
Sìleas joins the rest of this year's AmeriCorps team: Sam, Aly, Joyce, Jordyn, and Kerouac.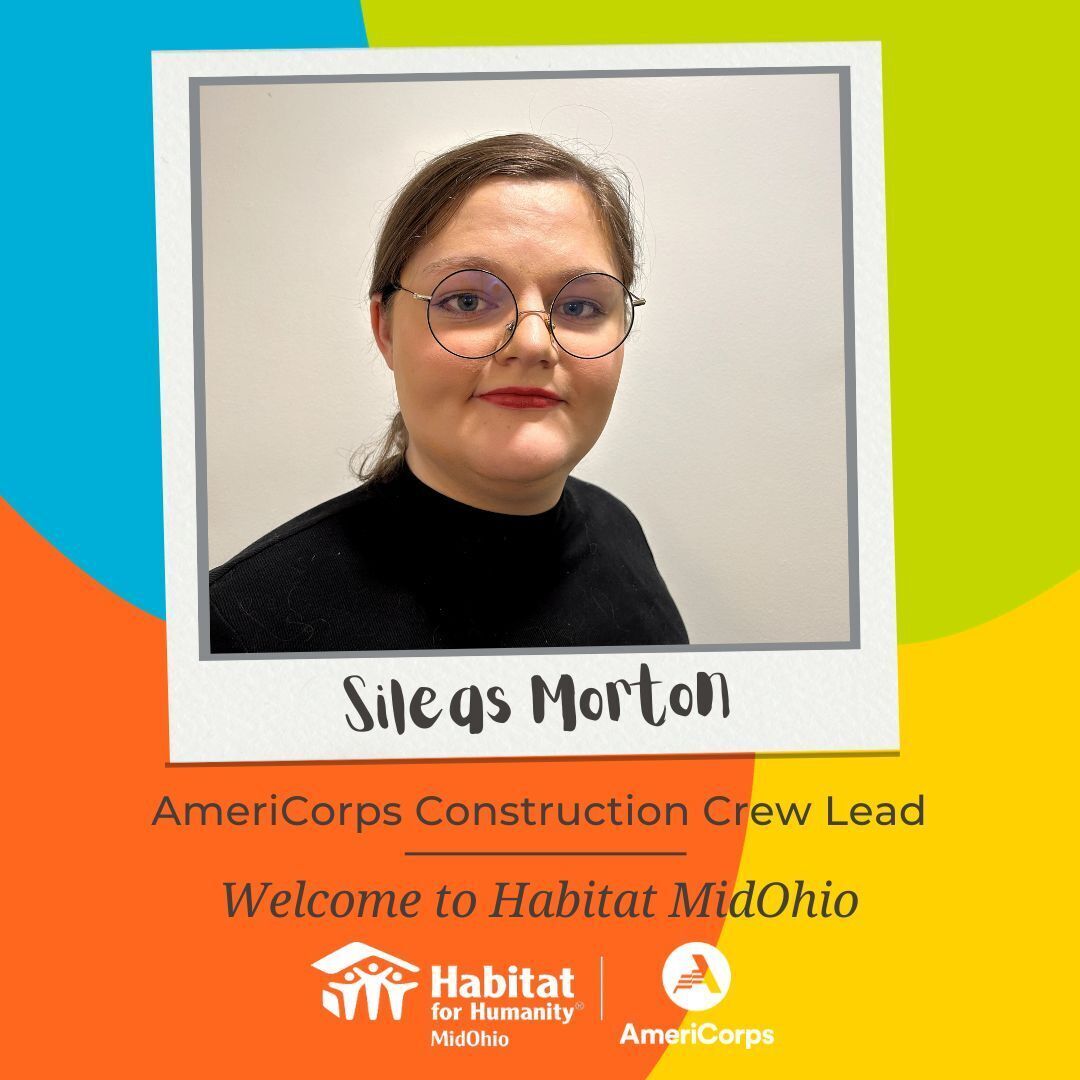 ---
Check out our latest volunteer spotlights: Eugene Johnson and Joe Franchini!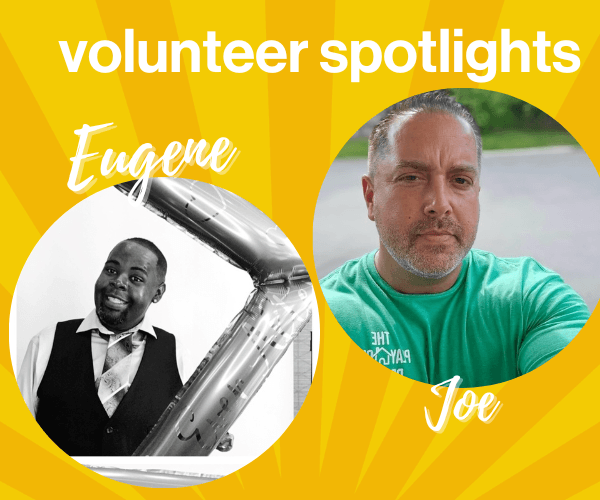 ---
Diversity, Equity & Inclusion
National Native American Heritage Month celebrates the diverse and rich culture, history, and traditions of Native people. The observance is also a time to educate anyone and everyone about the different tribes and raise awareness about the struggles Native people have faced in the past as well as the present. American Indian pictures, words, names, and stories are a crucial part of American history and help mold our life today.
Native American history overflows with a variety of diverse groups and prominent leaders and figures like Crazy Horse, Sitting Bull, Sacagawea, and Pocahontas. Native Americans were always known for hard work and quick instinct. Today, there are about 4.5 million Native Americans in the United States, making about 1.5 percent of our population. Take some time to learn about and celebrate their culture this month.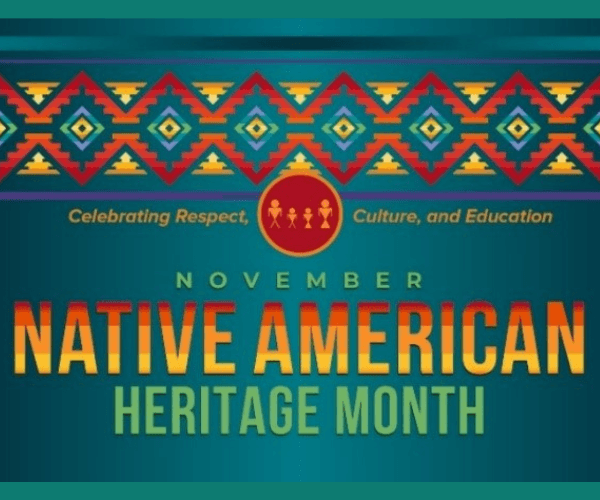 This past Sunday, followers of the Hindu, Sikh, and Jain faiths celebrated Diwali. The name is derived from the Sanskrit term dipavali, meaning "row of lights." The festival generally symbolizes the victory of light over darkness.
The holiday is also celebrated throughout India, Singapore, and several other South Asian countries as a national holiday, meaning that people outside these religions may participate in Diwali celebrations, too.
Hindu, Sikh, and Jain communities in the United Kingdom, United States, Australia, and elsewhere around the globe also regularly celebrate Diwali. Because Diwali is celebrated by so many people worldwide, traditions are diverse, though there are a few common themes, including lighting candles and gathering families. 
The main celebration of Diwali takes place on the day of the new Moon when the sky is at its darkest, so a big part of the celebration revolves around light. Candles, clay lamps, and oil lanterns are lit and placed throughout the home, in the streets, in areas of worship, and floated on lakes and rivers. Fireworks are also set off on the night of Diwali—said by some to ward off evil spirits.
Another central theme of Diwali is family. Wearing their best new clothes, families gather together to eat sweets and other special foods, light diyas (decorative oil lamps), and pray for their ancestors.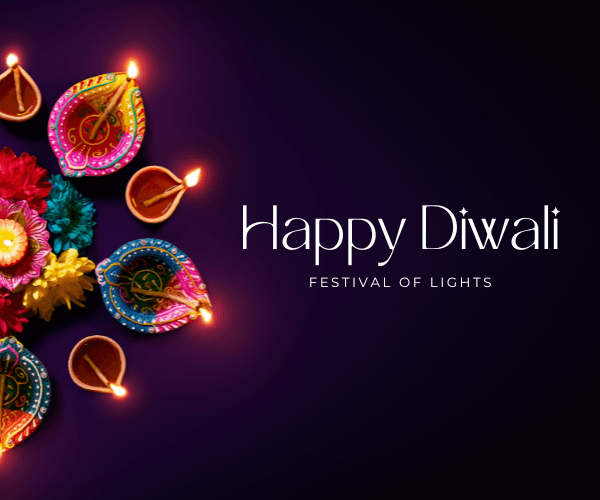 ---
Resource Development
GivingTuesday is coming soon!
GivingTuesday is a global generosity movement, unleashing the power of people and organizations to transform their communities and the world.  The annual celebration of generosity will happen one week from today on November 28, 2023. Will you join us in our goal to raise $10,000 in 24 hours? As a thank you for those who choose to give on Giving Tuesday, we'll send you a link to a digital copy of our 2023 Family Favorites Cookbook, which includes recipes from our partner families and staff.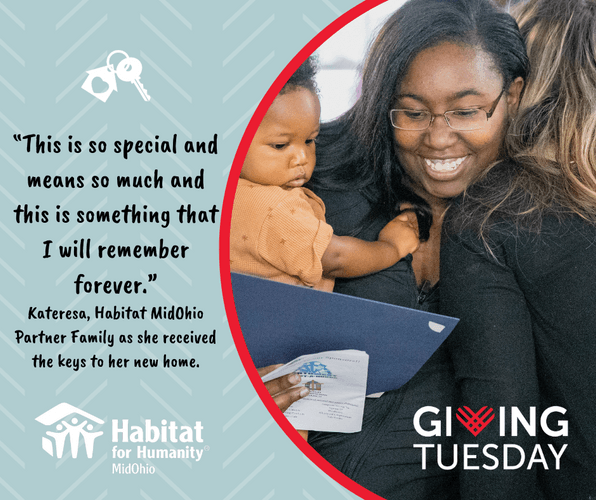 ---
24 Hours of Hockey for Habitat
Registration for our 8th Annual 24 Hours of Hockey for Habitat to open this month! 
Click here for updates: https://www.habitatmidohio.org/what-we-do/hockey-4-habitat.html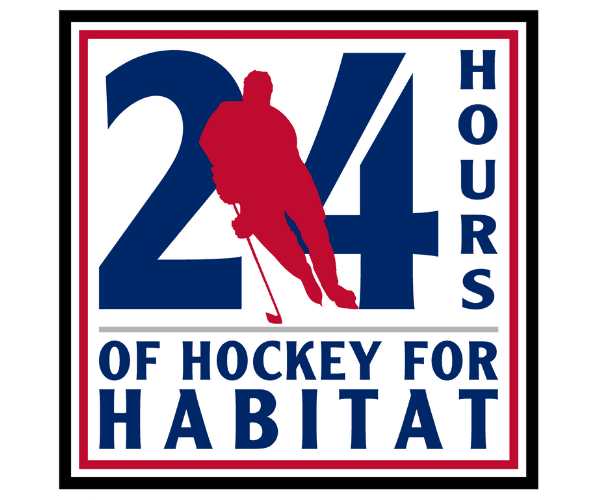 ---
Join our friends from FabYOUlous Fitness on Saturday morning, December 9, 2023 for "Sweating For A Cause," a charity workout for women benefiting Habitat MidOhio. The workout is free, and for each woman that participates, FabYOUlous will donate $5 to Habitat for Humanity-MidOhio, so grab a friend and sign up!