volunteer spotlight
The Volunteer Spotlight is here to honor those who have gone above and beyond for Habitat for Humanity-MidOhio!  Thank you to each and every individual and group listed below for your amazing dedication to and support of Habitat MidOhio.  We are a better organization because of you!
Habitat wants to shine a special light of thanks on… Bill Turns and Jordan Hunt!  
Bill Turns, AEP Construction Volunteer
As an AEP employee, Bill first heard about Habitat at work back in 2006, when AEP was sponsoring a wall build at the Ohio State Fair. He signed up to help, and since then, he has done a little bit of everything! For the past 13 years, he has helped build the AEP-sponsored home every year and has recently begun helping on other projects in the off-season.
Over the years, Bill has learned a lot while volunteering on site, although he's too modest to call himself an expert! He enjoys working with and learning from the other volunteers, particularly the AEP House Lead, Jim Rosing. He also values the time spent working alongside the future homeowners and the opportunity to work in some of the same neighborhoods year after year.
In addition to working with fellow AEP employees and retirees on site, Bill has also gotten to work with many other wonderful volunteers who represent various companies and organizations in Central Ohio as well as students from the Ohio State University.
In his spare time, Bill enjoys reading and journaling. On site, Bill can often be found doing some of the thankless jobs that are nevertheless essential to keeping a site running smoothly, like cleaning up debris and using a magnet to keep the area clear of loose nails and screws. Many of us have Bill to thank for preventing flat tires or injuries!
Bill's words of wisdom to future volunteers? "Remember that the work we do today means that the world is better than yesterday." We are so grateful to have Bill's positivity and work ethic as part of the Habitat team!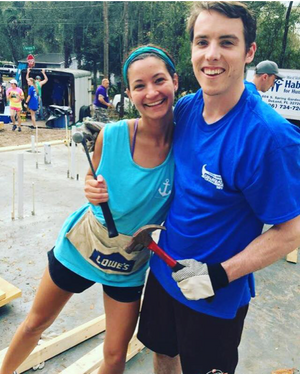 Jordan Hunt- Habitat Young Professionals Chair and Construction Volunteer
Jordan first got involved with Habitat about 6 years ago while in college at the University of Kentucky, through one of his fraternity brothers who organized builds for the local Habitat affiliate. During his time in college, Jordan participated in about 7 or 8 Habitat build days in Lexington and also went on a week-long Habitat trip to Deland, FL during spring break. During that trip, his group was able to transform a concrete slab into a fully framed house, all while working alongside the partner family. Jordan credits this experience as the moment that he first fell in love with Habitat's mission, noting, "It is a process that brings diverse people together, creates thankful hearts all around, and empowers human potential."
After moving to Columbus, Jordan attended an interest meeting about our Habitat Young Professionals chapter, and it wasn't long before he took on the role of HYP Chair! When he isn't busy attending HYP build days or organizing happy hours, Jordan enjoys fly fishing, being outdoors, exercising, and reading. He also enjoys spending time with his wife and dog and finding opportunities to build relationships. Outside of Habitat, Jordan is also a member of the Columbus Rotary, Columbus Young Professionals Club, and the US Bank Development Network (although he has managed to get these groups involved with Habitat too!).
One of Jordan's favorite memories as a Habitat volunteer centers around a home dedication for a Muslim family, where the primary house sponsor was Thrivent Financial, a Christian organization. He explains, "About 40 people were in attendance and everyone was holding hands, praying, and shedding tears… one of the most beautiful things I have ever witnessed." Jordan is also proud to have built a gazebo at his house, a feat he wouldn't have been able to accomplish without the skills he's picked up by volunteering with Habitat.
Thank you, Jordan, for your commitment to engaging more young professionals in Habitat's mission!