What is AmeriCorps?
"AmeriCorps (pronounced Ameri-core) is a network of local, state, and national service programs that connects more than 75,000 Americans each year in intensive service to meet our country's critical needs in education, public safety, health, and the environment."  – National Service website
AmeriCorps is a program of the Corporation of National and Community Service (CNCS) and began in 1994. AmeriCorps is commonly described as a domestic Peace Corps. AmeriCorps members commit to a year of full-time service.
There are three programs under the umbrella of AmeriCorps:
AmeriCorps*State & *National
AmeriCorps*VISTA
AmeriCorps*NCCC (National Community Civilian Corps)
Habitat for Humanity-MidOhio has worked with all three programs through the past 18 years and will be hosting 8 National Direct members during the 2020-2021 service year.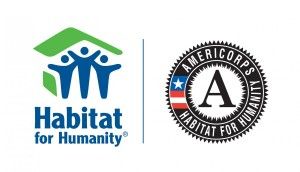 Available Positions: 2020-2021 Service Year
As a Construction Crew Leader, you will play an integral part in building and repairing homes. You will lead groups of skills and unskilled volunteers and partner families in construction activities while maintaining a safe, efficient work environment, and you will develop and enhance your own volunteer management and construction skills along the way!
Volunteers provide the hearts, hands, and voices to carry out Habitat's mission on and off the build site. As a Volunteer Services Coordinator, you will help recruit, train, schedule and recognize volunteers while growing the volunteer base and advancing individual and group partnerships.
FREQUENTLY ASKED QUESTIONS
What benefits do AmeriCorps members receive?
Tangible Benefits:
Modest living allowance of $15,850 for the service term
Basic health insurance
Training specific to service activities
Childcare for eligible members
Student loan forbearance during term of service
Education Award of $6,195 upon completion of service term
Housing assistance ($200/month for new members and $300/month for returning Habitat AmeriCorps members)
Intangible Benefits:
Chance to help others/perform community service
Explore future job/education interests
Learn about and work with other ethnic/cultural groups
Ability to be apart of a national movement
Meet new people
Put your faith into action
Learn about poverty/poverty housing issues
Get involved with Habitat
Do you currently have AmeriCorps members?
Yes! We currently have 6 AmeriCorps members: 5 Construction Crew Leaders and 1 Volunteer Services Coordinator.
How do I apply?
Interested applicants should apply on the Habitat for Humanity International website (linked above) and send a resume and cover letter to Deb Light.
I've submitted my application and resume, now what?
Habitat International and HFHMO will review applications and set up interviews with potential candidates. In the meantime, please direct any additional questions to Deb Light. 
If I am selected, when do I start?
2020-2021 AmeriCorps members will begin in August 2020 and end service in July 2021.
Will I be required to have a car?
Yes, you will need to have access to a personal vehicle. You will also need a driver's license and a good driving record. 
Who can I contact with any further questions about the AmeriCorps program at HFHMO?
Contact Deb Light at dlight@habitatmidohio.org or 614-364-7020.