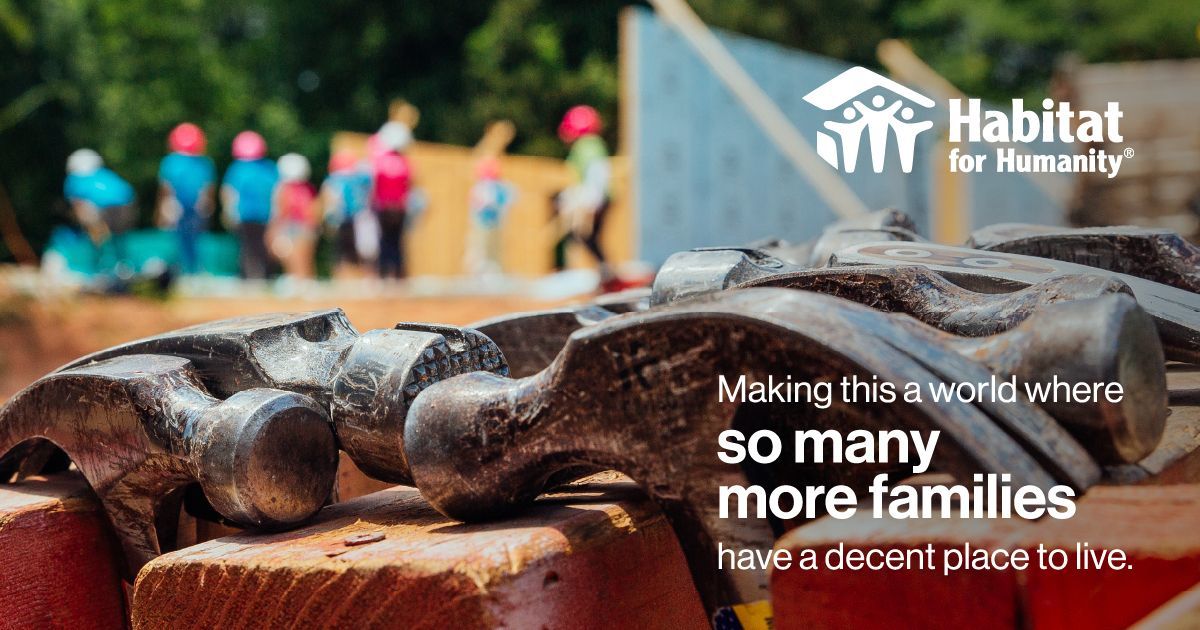 Habitat for Humanity-MidOhio receives $6.75M as part of a transformational gift from Mackenzie Scott to Habitat for Humanity International and 83 Habitat affiliates
Habitat for Humanity - MidOhio will use gift to address affordable housing shortage in Central Ohio
Columbus, OH (March 22, 2022) — Habitat for Humanity - MidOhio, along with Habitat for Humanity International, and 83 U.S. Habitat affiliate organizations, recently received $436 million in unrestricted giving from American author and philanthropist MacKenzie Scott. This transformational donation will substantially help further Habitat's vision of a world where everyone has equitable access to a safe, decent and affordable place to call home. 
 "All connected with this affiliate are deeply moved by Ms. Scott's incredible generosity, not just for us, but also for Habitat organizations throughout the country.  This gift will allow us to significantly ramp up our efforts in addressing the shortage of safe, decent and affordable housing for those families who are only able to afford a new, Habitat home at a 0% interest mortgage – the hallmark of our program.  To Ms. Scott, central Ohio says 'thank you!!," stated E.J. Thomas, Pres. & CEO.
Over the next three to five years, Habitat MidOhio will use the $6.75 million donation to invest in land, infrastructure, and equipment that will allow the affiliate to expand substantially its ability to empower local families in achieving or maintaining safe, affordable housing.  In addition, through a newly created CDFI, called Habitat Capital Resources Corp., the affiliate plans on originating mortgages for other families otherwise unable to get market-rate loans.  Taken together, these efforts will allow Habitat-MidOhio to increase significantly the number of families served for years to come. 
Currently, and based on the affiliate's efforts with Affordable Housing Alliance of Central Ohio work over the last six years, the organization identified more than 55,000 families who are severely cost-burdened with regard to housing.  As participants with CONVERGENCE Ohio, Habitat-MidOhio is working with others to increase the percentage of Black homeownership in the area.  Habitat-MidOhio intends to use this extraordinary gift as leverage to do its part among the area's affordable housing providers to help address such shortfalls by serving families who would otherwise remain in these disadvantaged positions. 
Habitat International will use its $25 million portion of the donation to prioritize advocacy and programmatic efforts designed to dismantle systemic racism in housing.  Specifically, the donation will allow Habitat to advocate for policy proposals and legislation that enable millions of people to access affordable housing through its Cost of Home advocacy campaign; increase Black homeownership in the U.S. by targeting current systemic barriers through a new initiative that will launch this summer; and leverage innovative capital investments that service communities of color. 
"Habitat works to break down barriers and bring people together — to tear down obstacles and build a world where everyone, no matter who we are or where we come from, has a decent place to live," said Habitat for Humanity International CEO Jonathan Reckford. "This incredible gift helps make that work possible."
About Habitat for Humanity – MidOhio
Affordable, decent housing is one of our most basic human needs, yet it is in alarmingly short supply in our very own neighborhoods and throughout the world.  A decent place to call home creates stability, launching families onto a positive trajectory of generational change that includes hope, improved health, and a better quality of life.
 
Habitat for Humanity-MidOhio has spent more than 30 years bringing the dream of homeownership to families in need.  Working in conjunction with Habitat for Humanity International, Habitat MidOhio's partners, donors, and volunteers have played a significant role in rekindling hope for more than 1,000 families through new home construction, rehabs, and home repairs.

For more information, please visit www.HabitatMidOhio.org.
About Habitat for Humanity International
Driven by the vision that everyone needs a decent place to live, Habitat for Humanity found its earliest inspirations as a grassroots movement on an interracial community farm in south Georgia. Since its founding in 1976, the Christian housing organization has grown to become a leading global nonprofit working in local communities across all 50 states in the U.S. and in more than 70 countries. Families and individuals in need of a hand up partner with Habitat for Humanity to build or improve a place they can call home. Habitat homeowners help build their own homes alongside volunteers and pay an affordable mortgage. Through financial support, volunteering or adding a voice to support affordable housing, everyone can help families achieve the strength, stability and self-reliance they need to build better lives for themselves. Through shelter, we empower. To learn more, visit habitat.org.
# # #