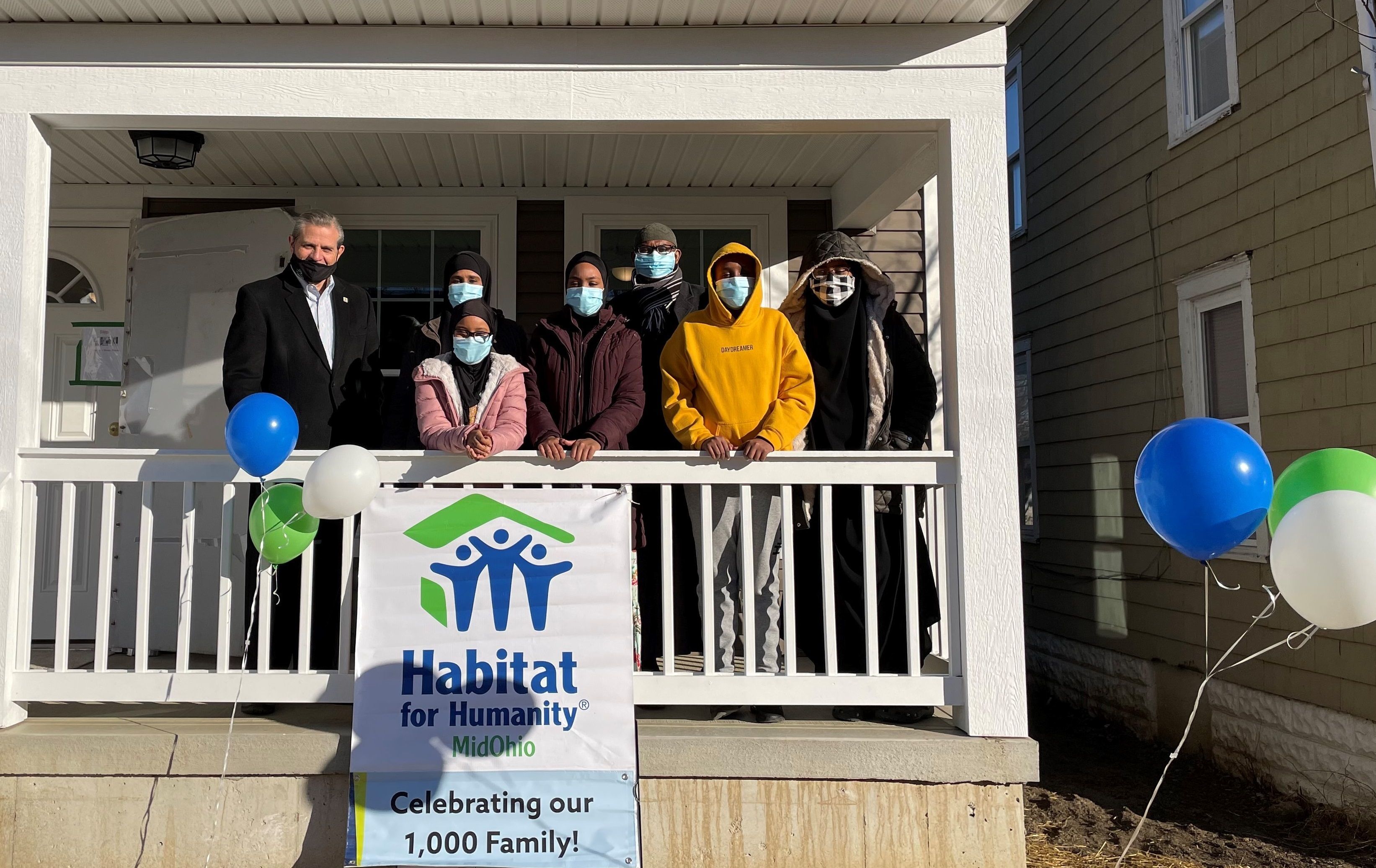 COLUMBUS, Ohio (January 23, 2021) – Habitat for Humanity – MidOhio reached a historic landmark on Saturday, Jan. 23 when a home dedication ceremony celebrated the 1,000th family served by the affiliate since its founding in 1987. 
Habitat MidOhio works to bring people together to inspire hope, build homes, empower families, and develop communities.  For the past 34 years, Habitat MidOhio has served families through new home builds/rehabs (422), owner-occupied home repairs (262), and tithe support to its sister affiliates in Africa (316). 
By serving 1,000 families, Habitat for Humanity – MidOhio has made a significant and lasting impact on 2,157 individuals, including 1,243 children. Habitat MidOhio has worked in Franklin, Licking, and Madison county neighborhoods with considerable revitalization efforts in Linden, Milo Grogan, and the Southside. 
"While a single home may provide shelter for one family, the ripple effect of housing affordability within a community does much more.  When we invest in housing, we invest in the future of the entire community.  Safe, affordable housing seeds long-term stability, generates greater economic freedom and mobility, and creates access to better education opportunities.  And if the past year has taught us anything at all, it's just how important and meaningful it is for everyone to have a safe place to call home," said Jonathan Reckford, CEO of Habitat for Humanity International.  "All of these outcomes help end the cycle of poverty, and fuel a safer, healthier tomorrow for generations to come."
Habitat for Humanity – MidOhio has steadily grown and increased its community impact over the past three decades. Habitat MidOhio began its service to central Ohio by helping four families in its first two years, it celebrated serving its 200th family in 2008, and in the last decade amplified its impact, serving over 400 families. After a successful capital campaign beginning in 2016, Habitat MidOhio was able to triple the number of families served each year and is on track to serve over 100 families annually going forward.
Speaking to this milestone, affiliate Pres. & CEO E.J. Thomas stated, "Today is a historic day for all of the donors and volunteers that, through all these many years, have contributed the financial resources and the many hours necessary to completing the work required for each partner family."  He further shared during today's home dedication ceremony, "Providing keys to the family's new home is something that never gets old, as the ceremony symbolizes another family that has invested their 'sweat equity' will no longer be living in poverty housing."
ABOUT HABITAT FOR HUMANITY-MIDOHIO
 
Affordable, decent housing is one of our most basic human needs, yet it is in alarmingly short supply in our very own neighborhoods and throughout the world.  A decent place to call home creates stability, launching families onto a positive trajectory of generational change that includes hope, improved health, and a better quality of life.
 
Habitat for Humanity-MidOhio has spent more than 30 years bringing the dream of homeownership to families in need.  Working in conjunction with Habitat for Humanity International, Habitat MidOhio's partners, donors, and volunteers have played a significant role in rekindling hope for more than 1,000 families through new home construction, rehabs, and home repairs.