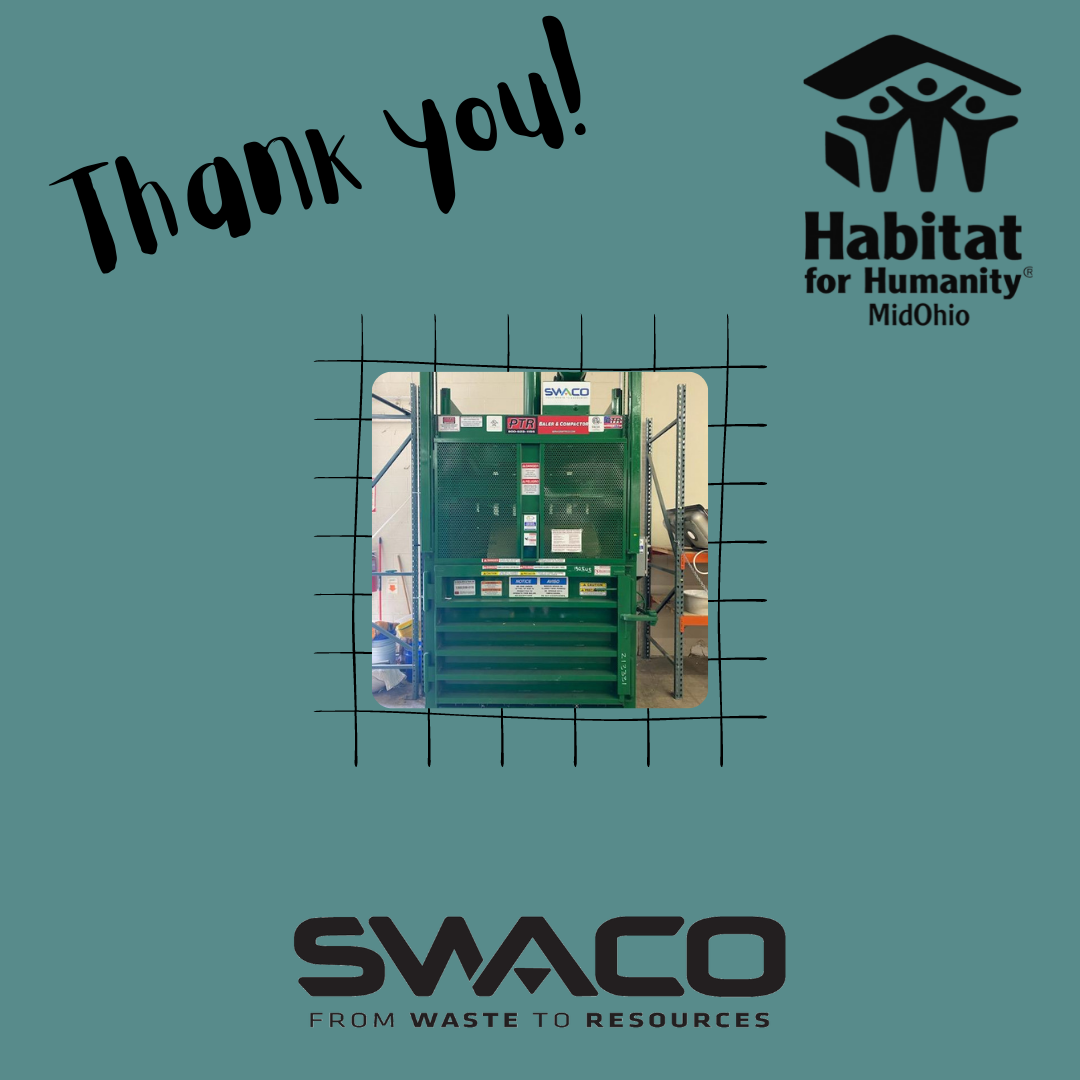 Columbus, OH -- Habitat for Humanity - MidOhio is proud to be the recipient of a $14,000 SWACO Community Waste Reduction Grant, which allowed Habitat MidOhio to purchase a cardboard compacter for ReStore Wilson Rd.
This compactor enables Habitat MidOhio to drastically streamline its recycling process, allowing it to further its commitment to sustainability through reuse and recycling whenever possible. The compactor eliminates the need to move broken-down cardboard from one location to another, which saves truck space, employee time and lowers the ReStore's gas emissions.  This latest grant is a continuation of generous support Habitat for Humanity- MidOhio has received from SWACO. Habitat MidOhio was also the beneficiary of a $35,000 2020 Community Waste Reduction Grant that allowed for the purchase of a new ReStore truck. The addition of this truck allowed for an additional three corporate donation pick-ups each week and kept 15-40 pallets of reusable materials out of landfills. In addition, the generous donations SWACO has provided allows Habitat MidOhio to work more efficiently, ultimately leading to increased sales which directly supports our affordable housing programs! Learn more about SWACO and its work by visiting swaco.org.
About Habitat for Humanity - MidOhio ReStores: Habitat MidOhio ReStores play an important role in the effort to combat the affordable housing challenge in central Ohio. Donations of used and new household goods and building materials are sold to the public and proceeds help to offset most of Habitat MidOhio's administrative costs — so cash contributions go directly toward building homes and revitalizing communities. Our business model reduces landfill reliance as items are donated — instead of discarded — resold and sometimes even repurposed, thus preventing durable, reusable materials from needlessly going to waste in local landfills . . . to the tune of almost 1,700 tons annually!