Lauren Rivera, AmeriCorps Construction Crew Leader 2019-2020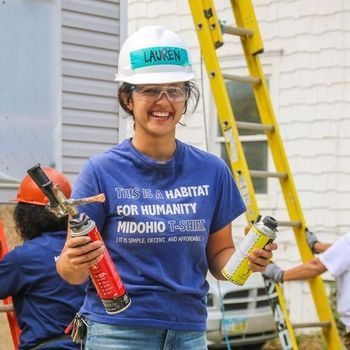 Growing up, I spent many weekends installing flooring, painting walls, and building cabinets with my dad. My parents owned a few Section 8 rental properties that I helped repair between tenants. Hands-on service work became a passion of mine. During undergrad, I spent two summers serving abroad, adding to the list of experiences that shaped my career trajectory. When I graduated, I wasn't ready to commit to a 9-5 job but knew I wanted to be home for a while. I reached out to my local Habitat affiliate and asked how I could get involved. They told me about the AmeriCorps program and said they had one more spot to fill for the year. It seemed like the stars had aligned into the perfect opportunity for me.
I spent the next ten and a half months pounding nails, coaching volunteers, growing as a leader, and reigniting my passion for affordable housing. My favorite memory from my service year is from teaching one of our homeowners how to build a wall. He and his son followed behind me, hammering as I laid the walls out, eager to stand each one, watching his home go from a dream to reality in front of him. The year was full of similar experiences, and I knew one year with Habitat wouldn't be enough for me. Fortunately, as my service year was coming to an end, our affiliate was launching our Playhouse Project and looking for someone to run its operations. I jumped on the chance and was hired as the Program Coordinator. I am excited and blessed to continue serving this affiliate, this mission, and our partner families. I owe it to the growth and opportunities my AmeriCorps year provided me.