Anna Walters, AmeriCorps Construction Crew Leader 2019-2020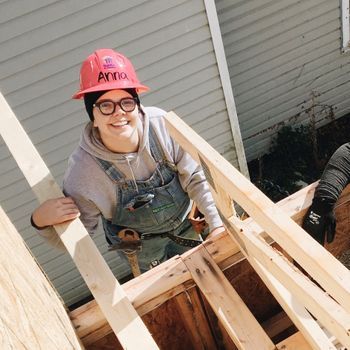 I joined AmeriCorps on somewhat of a whim-- I had never volunteered with Habitat and didn't know what AmeriCorps was. Truthfully, I saw the ad on Indeed and thought, "wonder if I could do that." I've always dreamed of buying a fixer upper, and this felt like a great opportunity. I never expected I would be hired. It was a shock. It was even more of a shock my first day on site. Truss setting in 90 degree weather. 
I remember laying on the floor of the Women Build basement, melting in the sun and thinking, "what did I get myself into?" My whole body hurt. Muscles I didn't know I had hurt. Chris was so patient with my ignorance of building a house. Every day got a little easier. I felt myself getting stronger and feeling more confident about tasks. 
Seeing a house being built from the ground up has been almost spiritual to me. I, too, feel like I've grown as a person. Every time I'm in the Women Build house--the first house I've had the honor of seeing go from a hole in the ground to Mama Faiza's soon-to-be home, the house that shares my name-- I think of myself laying on the ground roasting in the sun, and I am so proud of how far both of the "Annas" have come. This year of service in AmeriCorps has changed my life.